Welcome to our Exclusive 'Sheet Music with Letters' Collection – Authentic Piano Notation with Letters and Notes Together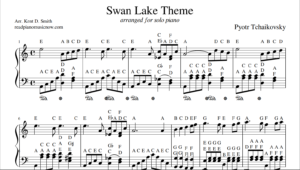 ---
Regular Piano Sheet Music with Letter-Names Included
---
ReadPianoMusicNow.com (this site) is a brand new offering from Kent Smith of "Piano With Kent" (R).  
The prime focus of 'Read Piano Music Now' is to eliminate roadblocks to learning (or re-learning) how to read sheet music for piano. 
I also plan to bring in my older educational material from 'Piano With Kent,' which is mostly videos on music theory, composition, and improvisation!  
Showing 1–12 of 14 results
Showing 1–12 of 14 results