Welcome to our Exclusive 'Sheet Music with Letters' Collection – Authentic Piano Notation with Letters and Notes Together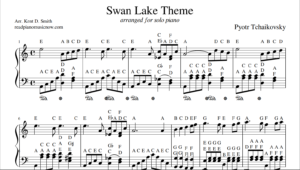 ---
STANDARD PIANO SHEET MUSIC with LETTERS INCLUDED
~ Especially designed for older students returning to piano ~
~~ See all sheets below! ~~
---
ReadPianoMusicNow.com (this site) is a brand new offering from Kent Smith of "Piano With Kent" (R).  
The prime focus of 'Read Piano Music Now' is to eliminate roadblocks to learning (or re-learning) how to read sheet music for piano. 
I also plan to bring in my older educational material from 'Piano With Kent,' which is mostly videos on music theory, composition, and improvisation!  
---
Educational BLOG (on this website)
ABOUT this website, Kent Smith, and 'Piano With Kent'
---
I am currently adding new and exclusive educational content on a regular basis! This includes my exclusive sheet music with letters and notes together, which you see listed below.
Showing 1–12 of 14 results
Showing 1–12 of 14 results